Nuevo Sitio de Freesia
New Freesia Website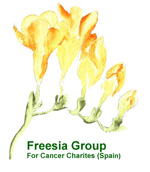 The Freesia Group has a new website to provide more information about the various events we organise throughout the year were you can find booking information, maps and more.
The name of the new website is: www.Freesia-Events.com
For more information about the next car boot sale in September, please visit: www.Freesia-Events.com to confirm your booking.
El Nuevo Sitio de Freesia
El Grupo de Freesia tiene un nuevo sitio web para más información acerca de los diversos eventos que organizamos durante todo el año donde usted puede encontrar información sobre reservas, mapas y mucho más.
El nombre de la nueva página web es: www.Freesia-Events.com
Para obtener más información sobre el próximo rastrillo en septiembre, por favor visite: www.Freesia-Events.com para confirmar su reserva.